About Ammo
Ammo is a jewellery social enterprise based in Siem Reap, Cambodia, that empowers local women and youth to fulfill their dreams. Founded by British jeweller Madeline Green in 2013, and inspired by the Cambodian tradition of melting found bullets to make jewellery – at Ammo, we recycle blank brass cartridges that have been fired once (in practice, rather than from bloodshed). For us its a great symbol of transformation for Cambodia and for its incredible people – creating 'Beauty from Destruction! '
When the pandemic hit, Ammo had to innovate and move their business online. They also shifted their focus to empowering Cambodian women. Alongside 9 other local people trained by Madeline, Chantrea Thorn is one of the artisans who has overcome many challenges to achieve her success. She started her journey in poverty in Phnom Penh, but with the support of Ammo, she has blossomed into a talented designer and entrepreneur.
IN 2021, Chantrea was awarded a grant from Nomi Network to launch her own jewellery business, Chan Alanka. The gold plated DECO collection is inspired by the luxuriousness of 1920s design, geometric shapes, and sleek lines. "I create jewellery to make you shine!" so says Chantrea THORN. As a passionate and motivated young female Cambodian entrepreneur, hers is a true story of success.
Madeline Green believes that women like Chantrea are the ones who will help Cambodia survive the pandemic. "They are creative, resourceful, resilient, and determined. I am glad to see that Ammo is supporting Cambodian women entrepreneurs like Chantrea, and they are now shaping the business (and their country) into their own positive direction and a more sustainable future!"
Chantrea Thorn
Design Entrepreneur, Head of Studio
Our superstar manager, model and now design entrepreneur, Chantrea is the head of our Cambodia studio.
Philit Thorn
Master Craftsman
Philit has worked hard for many years to become our master craftsman, specialising in prototype development and gemstone jewellery.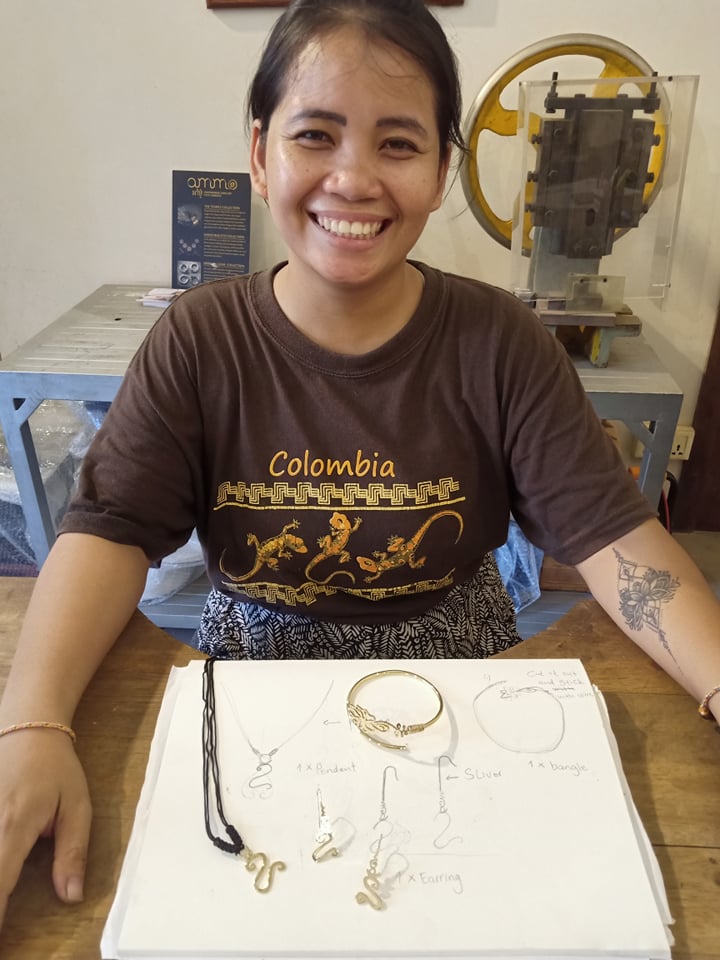 Nary DY
Workshop Teacher
Nary started her ammo journey from a local NGO, but has now risen to become teacher of our ammo workshops, whilst supporting her child and family.
Sreynet Lim
Apprentice
Our youngest apprentice, but already designing and making whilst studying, shes an up-coming star to watch out for!
Madeline Green
As the founder of Ammo in 2014, she has a passion for design, recycling, and supporting disadvantaged youth to become empowered artisans.
Ammo was founded by British jeweller Madeline Green in 2013, as a result of a collaboration with social enterprise Saomao , (training artisan jewellers for the last 20 years). Inspired by their Cambodian tradition of melting found bullets to make jewellery – at Ammo, we recycle blank brass cartridges that have been fired once (in practice, rather than from bloodshed). For us its a great symbol of transformation for Cambodia and for its incredible people – creating 'Beauty from Destruction'!